Stakeholders We Support Across Functions
We engage with many stakeholders across various functions such as consumer insights, market research & analytics, ecommerce, integrated media planning, finance, marketing analytics, brand management, channel & distribution management, media buying agencies, and creative agencies.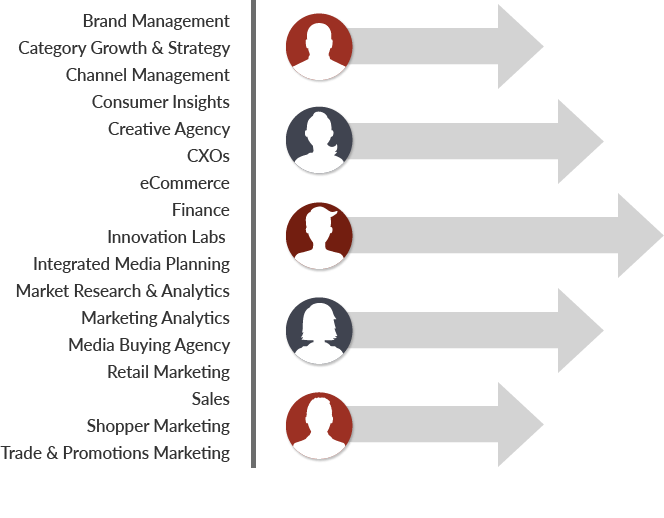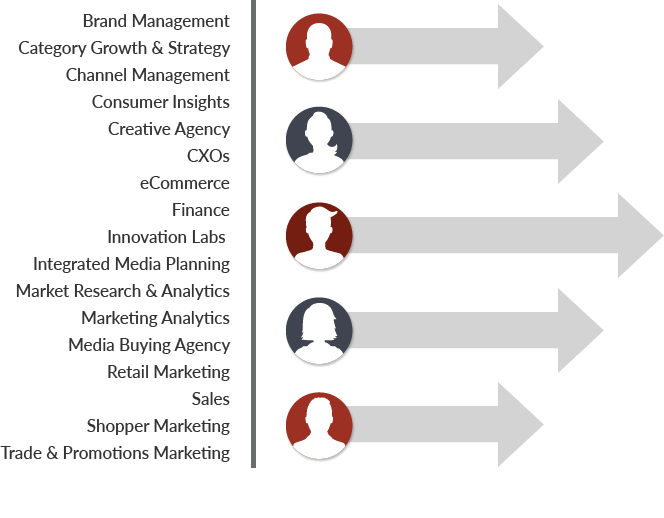 Business Drivers
How did changes in product packaging help in improving media performance?
How do business factors such as freshness, wages, tax returns, dollars/peso exchange rate, penetration, in-store inventory and sales per store impact sales driven baseline, in-store events and marketing channels?
How do store factors like store size impact the overall sales driven by marketing?
Is a coupon for a single product of a brand drives higher ROI than the coupon for multiple products of a brand?
How do demographic factors such as age, gender, income and ethnicity impact the sales driven by in-store events and marketing channels?
Media Planning
What is the potential impact on sales if $1Mn investment in Paid Search is shifted to fund print activity?
How much volume does the brand losses by not having any investment in social media for Q1?
Which face value ($1 or $0.5) for FSI will help in generating better ROI for a channel?
At current budget levels, how can the sales increase by just optimizing TV spend across multiple DMAs?
For an additional $500k-$1M in TV budget, how can brand maximise ROI across all TV markets?
Recommend an optimal creative mix (out of 24 creatives) on weekly basis for each of the campaign (Spring, Easter, Mother's Day, BTS, Fall, Post christmas) during the year
Consumer Specific
Does retail events targetted to African American community via Radio drive more sales?
How well does online coupon and mobile coupon perform for Hispanic market?
For Asian community, does influencer led content helps in driving higher ROI for luxury products compared to non-luxury products?
How current & future sales would be impacted across top retailers due to the negative sentiment? Should the channel sales team adjust the sales forecast?
Market Research
Does competitor target Amazon buyers more effectively – with offers, with product information, and with ratings & reviews in comparison to client's brand?
Does shopper "social" sentiment suggest that competitor is the highest quality and lowest price product?
Is competitor's promotions are at a higher value and more consistent (throughout the year) compared to client's brand?
What shopper marketing tactic drives the most Amazon sales lift for competitor?
When purchasing online, do moms buy the brand they hear the most about / are most familiar with?
Retailer Specific
Does retailer specific coupons show any significant effectiveness towards the brand?
For a brand, are the Amazon promotions more effective than Walmart promotions?
How do retailer specific coupons perform when accompanied with CTAs like "Get Coupon", "Buy Now", etc.?
How much did the Walmart private label brand entry impact sales volume of client's brand in Walmart?
What's the impact of Amazon's "Subscribe and Save" functionality on sales?